Cameron Jackson - Kings Pre-Draft
Seeking Coaches
Coaches Application
- Virginia Elite is seeking coaches for the Youth and High School programs. If interested contact Coach Gadson or complete
Coaches Application
The Campus
Patrick Strite visits Lafayette
April 21, 2019 -- Patrick Strite, a junior at Bishop Walsh School, Cumberland, MD took an unofficial visit to Lafayette College of the Patriot League.
2019 Commitments
June 8, 2019 -- Josh Perea, has committed to attend TLAP Sports Academy, Port St. Josh is now in the recruiting class of 2020

May 20, 2019 -- Jaylen-Cole Williams, Virginia Academy (VA) has committed to attend TLAP Sports Academy, Port St. Lucia, FL under Coach Louis Graham. Jaylen is now in the recruiting class of 2020.
United World Games
May 29, 2019 - Virginia Elite will be participating in The United World games (Youth Basketball) is known as the 'Olympics for Amateur youth sports' with MVP International Athletes. With over 10,000 attendees from over 40 countries, this tournament is the centerpiece for international youth sports competition.
The MVP team will be the ONLY team representing the USA in a very competitive international age (12U, 13U and 14U) divisions.
Team tryout information coming soon.
View the MVP website
Virginia Elite 17U New Balance (NB)
This season Virginia Elite launched the 17U New Balance (NB) with 2020 6-Foot-3 G Avery Nance, Loudoun Valley H.S. leading the way. The team is a representation of the growth and exposure provided through Virginia Elite.
A10 - Golden Selected 3rd - Team
UNIVERSITY OF RICHMOND

The 6-Foot-10 redshirt sophomore Grant Golden was named Third Team All-Conference. Golden was named Third Team All-Atlantic 10 for the second straight season after finishing second in the conference in scoring (17.4 points per game) and seventh in rebounding (7.1 per game.

Golden surpasses 1,000 points
The 6-foot-10, 265-pound forward is just the second sophomore in school history to surpass 1,000 career points. The other to accomplish the feat is all-time leading scorer Johnny Newman, who played 16 years in the NBA from 1986-2002. Newman scored 2,383 points from 1982-86.
New Beginning for Munson at University of Central Arkansas
2018-19 NCAA Season
James Butler, Drexel University Virginia Elite Alumni
Virginia Elite Alumni 2018-19 NCAA Season Competition includes:
Kansas

University of North Carolina

Wake Forest

Mississippi State University

University of South Carolina

Duke University

Notre Dame

Ohio State University

Temple University
Grant Golden, Freshman Highlight
Cameron Jackson NBA Pre-Draft
Guest Appearance
Guest Appearance - Former William and Mary Tribesman, Daniel Dixon and now in the Phoenix Suns organization dropped by practice to talk about his experiences coming from Langley HS. We tell our guys you never know who's coming in the gym.
Upcoming: 2019-20 Junior Elite Tryout Schedule
June 3, 2019 - In preparation for the 2019-20 Junior Elite season. Virginia Elite will host two (2) sessions:
2019 College Commitments
Paul Rowley Named Dean Ehlers Leadership Award
A The two-year captain, Rowley has been described by his coaches and teammates as the 'heart and soul' of the Tribe. He has excelled at a level rarely seen in Division I athletics academically. In 2017, he graduated magna cum lade from W&M in just three years with a double major in finance and computer science. Last season, he was named the CAA Male Scholar-Athlete of the Year and became the first W&M basketball player since 1912 to be selected to the prestigious Phi Beta Kappa honor society in 2017. Rowley is believed to be the first DI men's basketball player to compete on the court as second-year law student.

Louisa boys basketball team wins Region 4B title
MINERAL — In 1994, Robert Shelton was the leading scorer for Louisa County's first regional championship boys basketball team.
Twenty-five years later, Shelton was on the sidelines as coach as the Lions celebrated another crown following a 77-53 victory over Courtland in the Region 4B championship game at Louisa County High School. Read More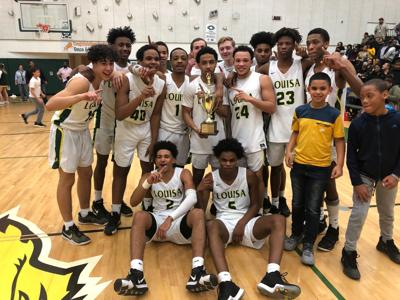 Is there anything Paul Rowley can't do He graduated from William and Mary in 3 years with 2 degrees, is a 2nd year law school student and finds time to play hoops for the Tribe.
WILLIAMSBURG, Va. — Paul Rowley says he tries to get 8 hours of sleep a night. That's a little hard to believe considering everything he needs to fit into a 24 hour day.
In just 3 years, Rowley earned two degrees from William and Mary and is a member of Phi Beta Kappa, the most prestigious honor society. Right now, he is in his second year of law school.
Grant Golden reaches 1,000-point plateau
FAIRFAX, VA — Grant Golden reached an offensive milestone and spiced the occasion with an elevated defensive performance. Nonetheless, the University of Richmond was cooled at George Mason, which bounced back from a slow start to win 77-63 before 3,281 at Eagle Bank Arena.

Golden scored 10 points with nine rebounds, five assists, two steals and a career-best six blocks, double his previous high. All of the rejections came in the first 25 minutes. With his fifth point, scored with 4:53 left in the first half, Golden became the 47th player in program history to score 1,000 in his career. Golden scored 18 points in nine games as a true freshman before missing the remainder of that season and redshirting because of a heart issue.
Golden became the second player in UR history to reach the 1,000-point mark before the end of his sophomore year. John Newman, Richmond's career-leading scorer (2,383 points), scored 1,044 in his first two seasons.
Stu Vetter Basketball Camp Partnership
Virginia Elite is immensely excited to launch our partnership with Coach Vetter Basketball Camp. Coach Stu Vetter has been coaching for over 40 years.
Few Coaches have ever been able to bring such a passion for the game to so many. In addition to graduating over 100 players who have become Division 1 student/athletes, eight of Coach Vetter's players have been 1st round picks in the NBA.
And more still have continued as coaches at the High School and College level. Coach Vetter attends every camp and takes a very hand on approach, offering hours of instruction and encouragement to campers about basketball and life.
Stu Vetter Basketball Camp has been one of the top summer camps in the Washington, D.C., Maryland and Virginia (DMV) area for 40 Years! Over 21,000 campers have attended. Talk to any of them and they will tell you they had FUN! Coach Vetter attends and takes a very hands on approach at every camp, offering hours of instruction and encouragement. Camp counselors are all top-rated high school and college basketball players and coaches. In addition, former players such as Justin Anderson, Greivis Vasquez and Kevin Durant often appear as guest speakers / instructors.
Stu Vetter summer basketball camps take place throughout Northern Virginia and Maryland between June and August (see dates & locations). Camps are designed for boys and girls between the ages of 6 and 18 of all skill levels.
Go to Coach Vetter Basketball Camp to get more information about camp dates.
Paul Rowley Juggling D1 Hoops and Law School (L2)
Freshman Elijah Bowens Stepping Up


ELIJAH BowenS Leads 17th-Ranked Captains to lead the Capital Athletic Conference
ST. MARY'S CITY, Md. - Virginia Elite Alumni Elijah Bowens and Christopher Newport connected for seven three-pointers in the second half Wednesday night, and managed to hold off upset-minded St. Mary's, 79-76. The victory at O'Brien Athletic & Recreation Center improved the Captains to 17-3 overall and 7-2 in the Capital Athletic Conference. Down the stretch, freshman Elijah Bowens made three-of-four free throws to help the Captains put the game away. Bowens finished with 11 points.
College Perspective
He's juggling basketball and law school at William & Mary, and whistling all the way

By John Feinstein, Columnist
January 4 at 1:28 PM
WILLIAMSBURG, Va. — When William & Mary wins a basketball game at Kaplan Arena, the players go through the handshake line with their opponents and then, instead of heading to the locker room, they cross the court for handshakes and high-fives with fans who crowd into the front row to congratulate the team.
Rowley isn't a glass-half-full type of person, he's a glass-99-percent full person. He doesn't like basketball, he loves it. He hasn't enjoyed his five years at William & Mary, he has reveled in them.
But that isn't what makes him unique. After graduating magna cum laude in three years with a double major in computer science and finance, he decided to go to law school and is now listed as an academic "L-2" on the team's roster — the only NCAA men's basketball player with that distinction, according to William & Mary. Read More
Why Play for Virginia Elite
Caleb Furr, Class: 2021
Virginia Elite 17U UA Rise
Bishop Walsh School (MD)
Virginia, Maryland and D.C.
Region 1 - Northern Virginia Herndon, Reston, Fairfax, Ashburn, Leesburg, All Loudoun county cities, Prince William County, Culpepper, Woodbridge, Quantico, Washington, D.C. and Maryland.
Region 2 - Winchester, VA Winchester Virginia and West Virginia
Region 3 - 757
Hampton Roads, Newport News, Williamsburg, Yorktown, Virginia Beach, Chesapeake and other cities in the area.
Port St Lucia, Florida
Virginia Elite - Florida 17U
ua rise league
In addition to playing in some of the nations most competitive grassroots tournament Virginia Elite will be competing on the UA Rise Circuit.
BOYS - Virginia Elite High School Elite programs will participate on the Under Armour (UA) Rise Grassroots basketball Circuit.
UA Future
Virginia Elite Junior and Elementary Elite programs are now part of the UA Future circuit. The UA Future model will replicate the UAA model for travel teams at the middle school level, playing regional league format for teams in the 14U-10U age groups, leading to the UA Future National Championship on June 28-30 at HyVee Arena in Kansas City.
Cameron Jackson, Wofford College
2020 Max Wilson, Oakton H.S. (Vienna,VA)
Max Wilson the 6-Foot-6 Junior Wing who plays for Oakton, High School has been around elite level basketball his entire life. Throughout the high school season Max has continued to showcase his basketball abilities which has resulted in being selected to the All District Defensive Team and 2nd Team All District team.
Recently Max took an unofficial visit to Columbia University as well as attracting attention from several division 1 programs. Heading into the spring and summer Max will be part of an impressive group of players on the Virginia Elite 17U Showcase team, that will be playing in the UA Rise Circuit.
Stephen Curry "Underrated"
The Underrated Tour will make stops in 7 U.S. cities to provide platforms for three-star basketball prospects to showcase their abilities.

Virginia Elite Jaylan Cole-William, Virginia Academy (VA) has been selected to participate in Stephen Curry "Underrated Tour" in Washington, D.C. January 26-27
Athletes participating in the Underrated camps will receive best-in-class resources, tips and hands-on training from elite coaches including Curry's trainer Brandon Payne.
Presidential Scholar and Athlete
2019 G Jaylen Cole-Williams of Virginia Academy (VA) recently was awarded Presidential Scholarship as well as Tournament MVP.
2018-19 Commitments
College Commitment
Jonas Munson
West Potomac High School
Alexandria, VA
Class: 2019
November 2, 2018 - 7-Foot-0 Center made it official to continue his academic and athletic career for the University of Central Arkansas. Continuing the trend of former Virginia Elite Alums, AJ Carr, Sam Berlin, Grant Golden, Cameron Jackson and James Butler.
Junior NBA Skills Session
Zach Harrell, Alumni Highlight